How Can A Muslim Husband Develop A Loving Relationship With The Wife
It won't be exaggeration to say that the fiber of any society rests upon the relation between a husband and a wife. If both share mutual love and respect the result is a healthy family which then consequently breeds good children who grow up to be productive citizens of the society. Therefore, the bond of love has to be there among husband and a wife.
Islam realizes the importance of husband wife relationship and encourages both the partners to love each other and increase their love for each other by complementing it with care and respect. The lines below discuss some major preaching of Islam for the husband when it comes to developing a healthy relationship with wife.
Prophet Muhammad (PBUH) said in one of His hadiths:
"Act kindly towards woman, for woman is created from a rib, and the most crooked part of the rib is its top. If you attempt to straighten it, you will break it, and if you leave it, its crookedness will remain there. So act kindly towards women." (Muslim)
This hadith gives perhaps the best solution that husbands require in order to develop a good and healthy relationship with their wives. The problem with husbands of today is that they are either too strict or too lenient to the extent of carelessness. When they are too strict and want their wives to be the way they want them to be, it produces resistance and retaliation in the wives. When they are to ignorant or careless, then the wives grow oblivious of the rightful things to do. Hence, the solution to it is kindness, where when husband are kind in a moderate sense, the ultimate result is the development of a stronger love and respect bond among the two partners.
At another place in Quran, with regards to husband wife relationship, Allah Almighty says: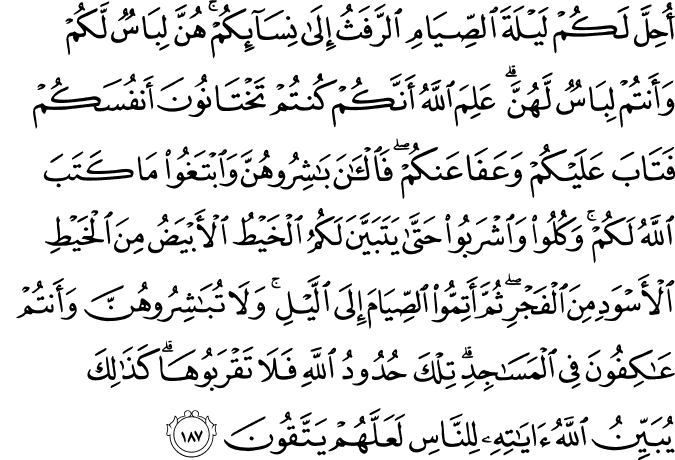 "….They are clothing for you and you are clothing for them…." (2:187)
Note - Do not know how to read Quran in Arabic? Do not Worry as you can do it by simply registering with Our Quran Learning Courses.
The common notion among people when it comes to relationship between a husband and a wife is that all is the responsibility of the women. Being caring, being loving, being protective, being caretaker all are the responsibilities of a wife and a husband only has to provide for the family. This notion is wrong, it is not only that the women are protectors of men, it is an equal responsibility of the men also to be protective of women. Therefore, when both the partners are protective of each other, watch each other's back and take care of each other then the relationship would surely be strong and healthy.
Another thing that can be done to make the relationship strong is spending on the wife and family. Husbands either out of their miserliness or out of contempt don't spend on their wives, which then stricken the fabric of love, which if persists for long eventually breaks. In this regard, Prophet Muhammad (PBUH) said in one of His hadiths:
"A man's spending on his family is charity" (Tirmidhi)
From the hadith it is clear that spending on one's family, which also involves the wife is a charity. Therefore, those who do not spend on their wives because of any other reason should do it because it gets counted as a charity for which there is a reward in the world hereafter.
In a nutshell, the relationship between a husband and a wife is a two way street where both the husband and the wife have to show mutual respect and love. It is not the duty of the wife only to love and care for the husband, rather the husband has to reciprocate in the same manner to ensure that love stays in the relationship.
Recomended Readings: